Meet Nicky - The New Facility Dog
The Court has a Facility Dog on the premises as part of its Canine in the Courts Initiative.
Nicholas or "Nicky" is a lab/retriever mix that has been trained to work mainly with children when they need to come to the Courthouse.
Please complete the attached Facility Dog Request Form (a fillable PDF). Be sure to include all of the information requested. The form may be physically submitted by US Mail or electronically sent to the applicable address found on the form. Please allow a reasonable amount of time so that the Court may properly review/process your request.
Confirmation of Nicky's availability for the requested event(s) will be made by his handler.
Funding for the Court's Canine in Courts Initiative comes from the Monroe County Bar Foundation.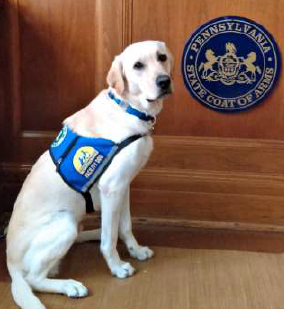 Nicky
Complete the Facilty Dog Request Form.
Email completed form to:
Or send by mail to:
Monroe County Court of Common Pleas
Facility Dog Program
610 Monroe Street
Stroudsburg, PA 18360